Journals
Journals 2013
Journals 2012
Journals 2011
Journals 2010
Journals 2009
Journals 2008
Journals 2007
Journals 2006
Journals 2005
December 2005-TX, LA, AL, FL
November 2005-AZ, MEXICO, NM, TX
October 2005-CA, AZ, UT, NV, AZ
September 2005-CA
August 2005-MT, WA, OR, CA
July 2005-WI, IA, SD, ND, MT
June 2005-FL, AR, MO, WI
May 2005-FL
April 2005-FL
March 2005-FL, TX, FL
February 2005-FL, CA
January 2005-FL, MO
March, 2005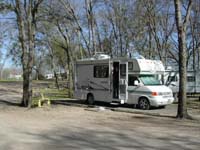 On March 10, 2005, we travelled to Clyde, Texas to purchase our new motorhome. The trip started at 5:00 am with Stagecoach Transfer picking us up in Oak Run and taking us to the airport in Orlando. A 7:00 am direct flight on AirTran took us to Dallas/Ft Worth airport, arriving at 10:00 am. At the airport, we rented a car and headed west to Clyde, population about 3,000 people, just east of Abilene. This was a 2-hour trip from the airport.

We arrived at Franklin RV Center and met Phil Fry, the salesman and Bobbie Betz, the business manager. Our initial feeling was that these people were going to be ok to deal with. After a test drive, we found the Sunstar to be in the condition we expected, although it would need to be detailed once we got back to Ocala.

All papers were signed and the title handed over to us, so off we went down the road to White's RV Park, the only one in town. Before settling in for the night, we drove to Abilene to visit the local Walmart to stock up on a few needed supplies. Bobbie's recommendation to dine at Lytle's Land and Cattle Steakhouse proved to be a good one. It gave us just what we needed before settling in for a good night's sleep.

March 11, 2005. Started the day with a trip back to Franklin RV to repair the headlights, nothing major, just a fuse needed to be replaced. We travelled to Waco the first night and stayed at the Riverview campground. We happened to just notice a sign along the road and it turned out to be a very pleasant evening. We dined on a wonderful microwave dinner, watched a movie and retired for the night.

March 12, 2005. On toward Houston, Sugarland to be exact. We spent the night with cousin JoAnne & Ray, who are just getting settled back into life in the states, after spending much of the last 7 years in Saudi Arabia. Had a wonderful visit and a great dinner at Joe's Crab Shack.

March 13, 2005. Ray fixed a fantastic breakfast, then we headed east. Our intentions were to stop somewhere in between Ocala & Houston, but we drove straight through. The VolksBox proved itself to be a comfortable and pleasant driving and riding experience. Guess we will keep it!

Created on 05/03/2005 03:08 PM by bridge
Updated on 08/07/2006 04:57 PM by bridge