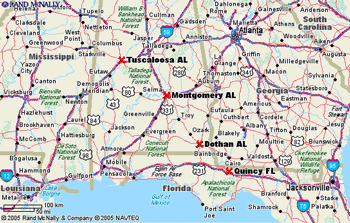 June 1
Before we even left the campground this morning, we had a call from the real estate agent with an offer on the house, $2,000 less than our asking price and a cash deal, with a closing date of June 29. Yee Haa!!
Today'??s route took us through Dothan and Montgomery on US 231. We stopped at an Office Depot to receive the faxed offer on the house, signed it, then faxed it back. Across the street was a Panera Bread, so we connected to the internet and checked our e-mail and bank accounts.

Two hours later, we headed west on US 82 to Tuscaloosa and Lake Lurleen State Park. The drive was beautiful; hilly, forest, and lush foliage including lots of Kudzu vines. Part of the drive took us through a small part of the Talladega National Forest. This was hard to figure out, since we saw the sign but the map showed the national park at least 100 miles to the east of our location.

Lake Lurleen State Park is beautiful. The road leading to the park was hilly and curvy - a perfect Miata drive. The Volksbox managed very well. We got out choice of sites ($17), not a soul in sight and the clean restrooms right across the street. Not far from the site and down a small hill ran a creek that leads into the lake. There is a little waterfall just downstream from our site. The water is real brown in color.